Jewelry x Women's Rights: Who's Got It Right?
The story goes like this:
You've just turned 18 and your parents betroth you to a man you know nothing about. He gives you 4 pieces of jewelry: a silver necklace weighing just under 1 kg, 2 silver ankle bracelets (0.5 kg each), a large nose ring. The ankle bracelets are fastened to your ankles. The necklace is to never leave your neck. The nose ring requires a large hole in your nasal septum. Now the world knows you are a married woman.
Over the years you develop calluses on your ankles where the metal rubs against your bones. Your neck is strong from holding the necklace which has gotten bigger and heavier as you got older: the size of the necklace tells your age. Your nose ring is there.
50 years have passed. You are now a widow looking over a large family — you live with them. The jewelry that has been a part of you for half a century is now removed from your body. You are no longer allowed to look beautiful but you are looked after.
This is the story of Gujarati women told through the eyes of a western woman. Due to language and customs barriers I was not able to talk directly to the women in the villages we visited. Their stories were shared with me by their sons and husbands.
Indian men also wear jewelry. In the Mughal era they were absolutely covered in it. The temples' sculptures indicate that all male deities are adorned with pearls and other jewelry pieces. This luxuriance does not seem to have survived over the years. The most touching story was shared by a weaver who showed me his necklace of sterling silver chain and basil plant wood, gifted to him by his grandmother. Every home has a basil tree at its front door — prayers are recited in front of the tree on a daily basis; it's a deity.
Obviously these are complex stories with many facets. My purpose here is only to share with you our experience of meeting these men and women who gave us the warmest welcome in their homes and were proud to share their work, traditions and a meal with us.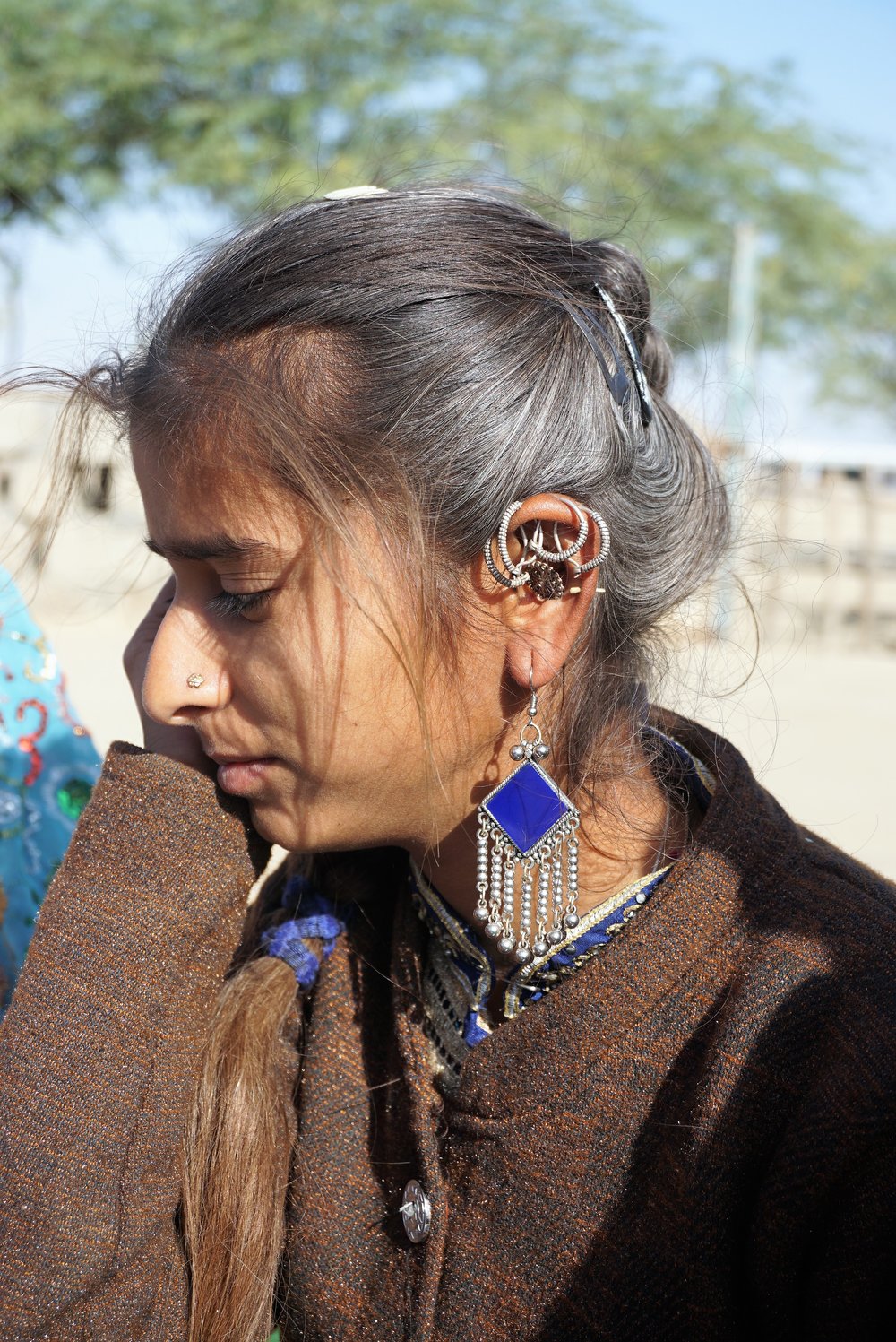 Everyone has a story we don't know about. And often, that story is told through jewelry.
As you can imagine, my brilliant friend and I had some long conversations on this topic; I'm curious to know your reactions to these women's stories. Are we witnessing mutual love or domination of one gender over the other? Are we even able to understand their story, coming at it from such a different world? What about body image? Femininity? So many ways of looking at it. There is a comments box at the bottom of the page if you would like to share your thoughts or a story.
I will be offering a Colours of India experience in January 2020. Email me if you want to be on the information list.
And if you enjoy my blog and think that more people show know about it, you can share it using the icons below — I am always very grateful for your support.